Home » Featured, Headline, Sinterklaas
Sinterklaas in Nederland? Yep…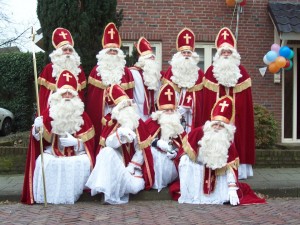 Zie ginds komt de stoomboot uit Spanje weer aa… Hee wacht eens effe, ik moet toch verder gaan met mijn blog!!! Sinterklaas komt morgen aan in Eindhoven, en ik weet zeker dat Sinterklaas ook in een andere stad of dorp komt… Dus 2 Sinterklazen in een dag. Maar Sinterklaas is dus heel erg mysterieus, want hij komt ongezien huizen binnen en legt cadeautjes neer. Ik moet eerlijk gezegd toegeven dat ik dat niet prettig vind wanneer er een Piet inbreekt bij me thuis en dat hij dan cadeautjes neerlegt bij mij. En als de Pieten de cadeautjes door de schoorsteen smijten, dan hoor je denk ik geheid een geluidje, en dan wordt je daar niet blij van. KRAKKK! BAMMM! Er moest eigenlijk een Sinterklaas-verzekering moeten bestaan zodat je verzekerd kon zijn tegen Sinterklaas. Ook niet iedereen gelooft in Sinterklaas en ik ben daar een van. Alleen niet verklappen tegen je broertje of zusje!
De handleiding voor pieten
Voor de Pieten die dit lezen, doe niet moeilijk! Klop even aan op het raam van het kind, dan doet het kind (waarschinlijk) wel open en ontvangt hij de cadeautjes. En anders weet je dat hij ontzettend is geschrokken. Wanneer dat niet lukt moet je de cadeautjes neerleggen bij de deur, en dan maar hopen dat ze niet worden gestolen door iemand!!!
De Pieten van Sinterklaas zijn ook niet zo handig en soms vallen ze ook van de dakken. Heel soms. Wanneer je BAM, KRAK en AAAAAAAAAAAAH hoort, dan zijn het meestal de Pieten. Of Sinterklaas natuurlijk. En ook nog een hele belangrijke tip! Blijf kalm, totdat je dat gekraak niet meer hoort. Één vraagje? Heb je wel Sinterklaas gezien bij je in huis? Nou ik niet. Ik heb ook nog een grappig filmpje van Sinterklaas: http://www.youtube.com/watch?v=L5YyMzoQ-4c Het is een heel grappig filmpje. Ik hoop dat jullie gaan genieten van het feest en dat iedereen veel cadeautjes krijgt!
Ik heb nog een ander verhaaltje voor mijn blog geschreven, hier lees je hem.